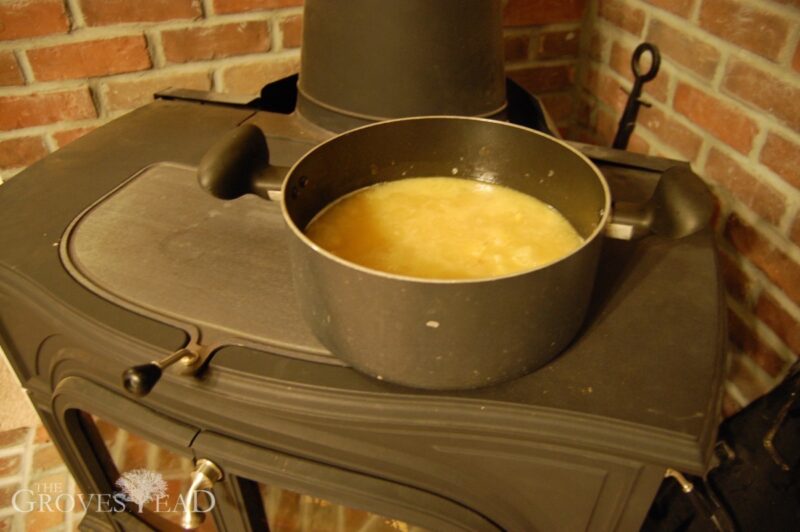 I've been inspired recently to start making my own soups. Simple soups that are made from simple ingredients you can grow in your own garden. The plan is to make a variety of soups in bulk over the winter while our woodstove is burning, so we'll have delicious homemade soups on hand all year long. I'm also going to start posting the recipes as I experiment and discover ones I like (see the new 'Cooking' section on the menu).
I'm calling these "Homestead Recipes". They taste best if you use homegrown vegetables and cook them on a wood-fired stove.

Potato & Corn Chowder
This is my new favorite chowder. It will ruin you for store-bought soups. Very simple but loaded with flavor.
Ingredients
4-5 yellow potatoes (eg, Yukon Gold), cubed
3 garlic cloves, minced
1 medium white onion, diced
4 cups chicken stock
1 cup cream (half & half)
2 cups sweet corn
1 tsp salt
1 bay leaf
(optional) 3 strips bacon
Toppings
Bacon bits
Shredded cheddar
Sour Cream
Directions
Cut bacon into bits. Fry up bacon and set aside. (skip this step for vegetarian)
Saute onions and garlic in bacon grease (or olive oil)
Combine onions, garlic, potatoes and chicken stock in stock pot. Cover and simmer for 30 minutes on wood-burning stove.
Add corn, salt, cream, and bay leaf. Continue simmering uncovered 20-30 minutes or until potatoes reach desired consistency.
Add toppings and serve.
Makes 2 quarts.